Emulsion Immersion Coolant Chillers – Diper Range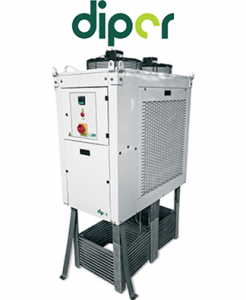 Emulsion Immersion Coolant Chillers
Today's CNC machines have fast material removal rates and ultra-high spindle speeds, which generates heat and this heat is directly added to the emulsion coolant. High, fluctuating coolant temperatures can result in reduced tool life, reduced coolant life, evaporative losses, machine component wear and, perhaps most importantly, scrapped components.
The RPS Diper coolant chillers maintain precision coolant temperature by efficiently rejecting the resultant heat picked up during the machining process.
The Diper range are fridge based industrial process cooling systems are designed for 24/7 heat removal and temperature control. Our units offer a fully self-contained solution, including compressor, stainless steel evaporator, condenser and expansion valve.
Diper emulsion coolant cooling chillers are designed for direct immersion into the client's filtration tanks and therefore provide the perfect solution for saving valuable shop floor area. The heat exchanger coils can be easily cleaned by lifting the chiller out of the tank, making them ideal for tanks filled with chips and swarf etc. If direct cooling is not possible, emulsion cooling can be achieved via a remote chiller and intermediate heat exchanger.
A wide range of standard options are available for the emulsion immersion coolant chillers, including: +/-0.5C temperature stability, emulsion agitator, inverter fan speed control, inverter pump speed control, inverter compressor speed control, ambient tracking, -10C / -20C low ambient trim, low coolant temperature pack, tropicalised ambient trim, 24V DC auxiliary, remote key keypad, MODBUS, soft start regulation, 304 stainless steel case, special RAL colour, cataphoresis pipe treatment, special condenser fin coating.
Cooling capacity from 3.6 kW to 42 kW
12 models
Refrigerant R134a – R410a
Scroll compressors
High efficiency stainless steel coil evaporator
Three-phases models 50/60Hz